KEY POINTS
Microsoft enhances its Windows 11 apps with AI capabilities by integrating OCR (Optical Character Recognition) into the Camera and Snipping Tool. This feature will allow users to easily extract and copy text from images or screenshots.
In collaboration with OpenAI, the Windows Camera app will soon enable users to scan text directly through the camera lens, making it especially useful for tablet users.
The Snipping Tool has already introduced its "Text Actions" feature. It uses Windows 11's AI to detect text in captured screenshots, allowing users to select and copy text directly from images.
Microsoft Paint isn't the company's only app going through AI evolution. Another two Windows 11's inbox apps are set for an AI upgrade (sort of), with the tech giant bringing OCR, a feature that allows you to extract and copy texts from images or screenshots with just a tap.
Windows Camera can soon copy texts from an image and paste them into apps like Word with formatting retained. Windows Camera app's app to scan for text in an image and turn it into pasteable text is powered by Microsoft's AI technology and is influenced by its partnership with OpenAI.
OCR has been available on Windows in many places. For example, you could use Bing or PowerToys' OCR feature to turn text in an image into copy-and-pasteable text. The optical character recognition (OCR) feature and in-house AI tech are coming to the Camera app.
OCR integration in Camera could make the Windows 11 inbox app Photos more useful on desktops. If you have a tablet, you can directly scan for texts through the camera lens and copy the texts to the clipboard. The feature seems ready to roll out to testers in the coming weeks.
A source told Windows Latest the OCR feature in Windows Camera is pretty much flawless, thanks to AI magic. For example, you could take a picture of an open book and copy the texts, including texts with weird formatting or complex characters like æ flawlessly.
OCR comes to Snipping Tool on Windows 11
While the OCR feature is unavailable in the Camera app, Microsoft has added "Text Actions", aka AI-powered OCR, to the Snipping Tool.
Text Actions uses Windows 11's AI technology to detect text in your captured screenshots, so you can easily select the text from any image and paste it or copy it to the clipboard.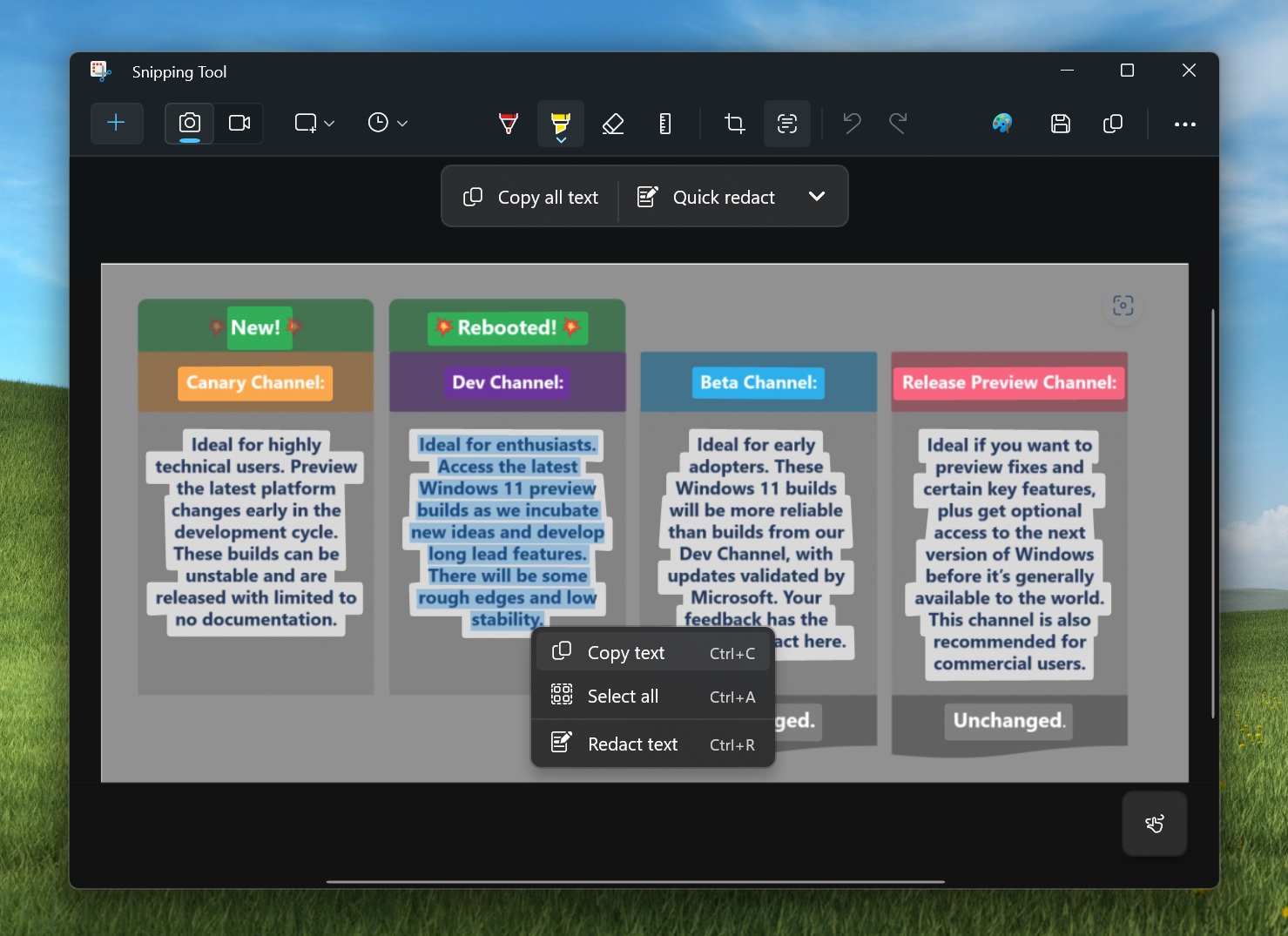 It's super easy to get started with Snipping Tool's Text Actions. You have to click the "Text Actions" button in the toolbar, and Microsoft will automatically highlight selectable text, then, you can copy or select text with your mouse.
You can use Ctrl + A and Ctrl + C shortcuts to copy all scanned images' text.
Another interesting feature that comes to Cmaera is the ability to hide or redact sensitive information like emails or phone numbers before sharing the edited screenshot.
The post Windows 11 AI update brings Google Lens-like OCR to Camera and Snipping Tool appeared first on Windows Latest