While casually looking for updates in the Microsoft Store, I noticed a new update for Cortana after a long time. But, instead of improving things, the latest update caused Cortana to stop working on Windows 11. This shouldn't surprise anyone, considering that Cortana hasn't received a single feature update in the past two years
Microsoft has finally killed Cortana on Windows 11 – its Windows Phone-era assistant that debuted on desktop with Windows 10. Cortana app was the tech giant's response to Siri in 2014, and Microsoft published a series of advertisements targeting Apple's powerful assistant.
In one of the ads, Siri, Apple's counterpart, was depicted admiring itself in a mirror, with a self-pleased phrase, "feeling pretty, oh so pretty". This was swiftly followed by the entry of Cortana, characteristically voiced by Jen Taylor, subtly jesting at Siri's robotic speech in a playful, competitive spirit."
While Siri continues to exist, Cortana has just stopped working. A new Microsoft Store update, rolling out to some users on Windows 11, shuts down the Cortana standalone app.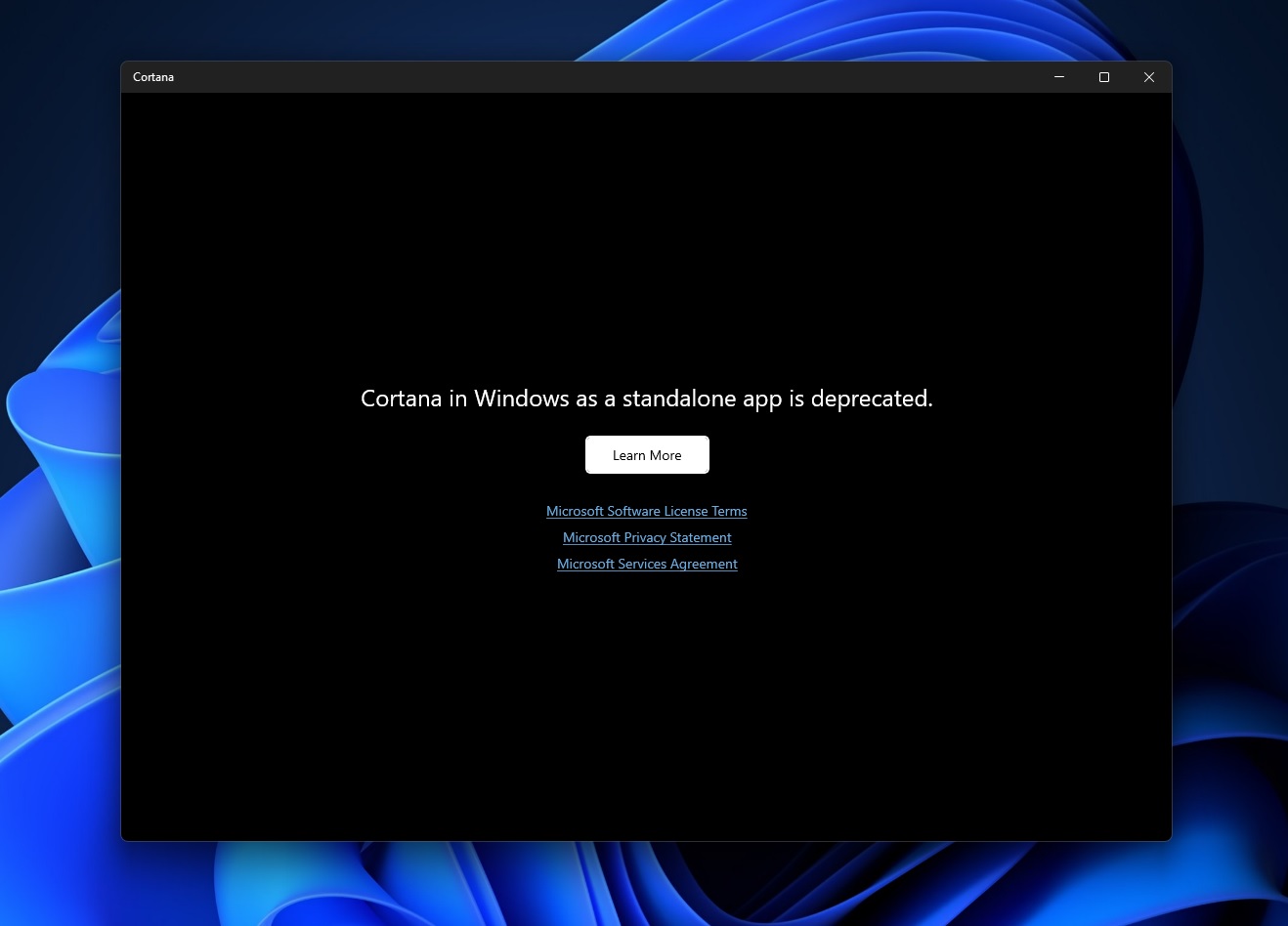 As first spotted by us, and you can see in the screenshot above, Cortana no longer works on Windows 11
Microsoft is shutting down the standalone "Cortana" app with Windows 11's Store app in favour of Windows Copilot.
The Cortana app now opens with the "Cortana in Windows as a standalone app is deprecated" alert and has a link to a learn more page, which opens Microsoft's support documentation.
"We are making some changes to Windows that will impact users of the Cortana app. Starting in August 2023, we will no longer support Cortana in Windows as a standalone app. However, you can still access powerful productivity features in Windows and Edge, which have increased AI capabilities," Microsoft noted in the document spotted by Windows Latest.
Cortana has stopped working on Windows 11, and Microsoft plans to kill off the app on Windows 10 within a few days or week, a source close to the company confirmed to Windows Latest.
Instead, anyone who wants an assistant or copilot for their desktops should use the Windows Copilot, which arrives with the Windows 11 23H2 update.
The post Microsoft just killed the Cortana app on Windows 11 in favour of AI appeared first on Windows Latest