At Build 2023 developer conference, Microsoft confirmed it is bringing full-fledged Bing AI-powered chat to Windows 11 and putting it on your desktop. This new experience is called "Windows Copilot", and it can help you automate various tasks, such as copying and pasting texts or media, taking screenshots, managing snap assist and more.
Windows Copilot update arrives in June in preview, and those in the Windows Insider Program will have access to the feature in the coming weeks. Copilot isn't designed to directly compete against the likes of Alexa and Siri-like personal assistant. Still, it works similarly and is designed to be like a local + search engine pilot.
You can use Windows Copilot in the standard search fashion or a more conversation mode, where you can ask the Bing AI (which powers Copilot) anything, such as the current time in London, the weather in your region, the latest sports score and pretty much anything you'd normally do on a search engine.
The same Bing AI experience will live inside Windows 11's desktop, and accessing Windows Copilot is straightforward, with its button conveniently located on the taskbar. Once activated, the Windows Copilot sidebar will appear on the desktop and across all apps and programs.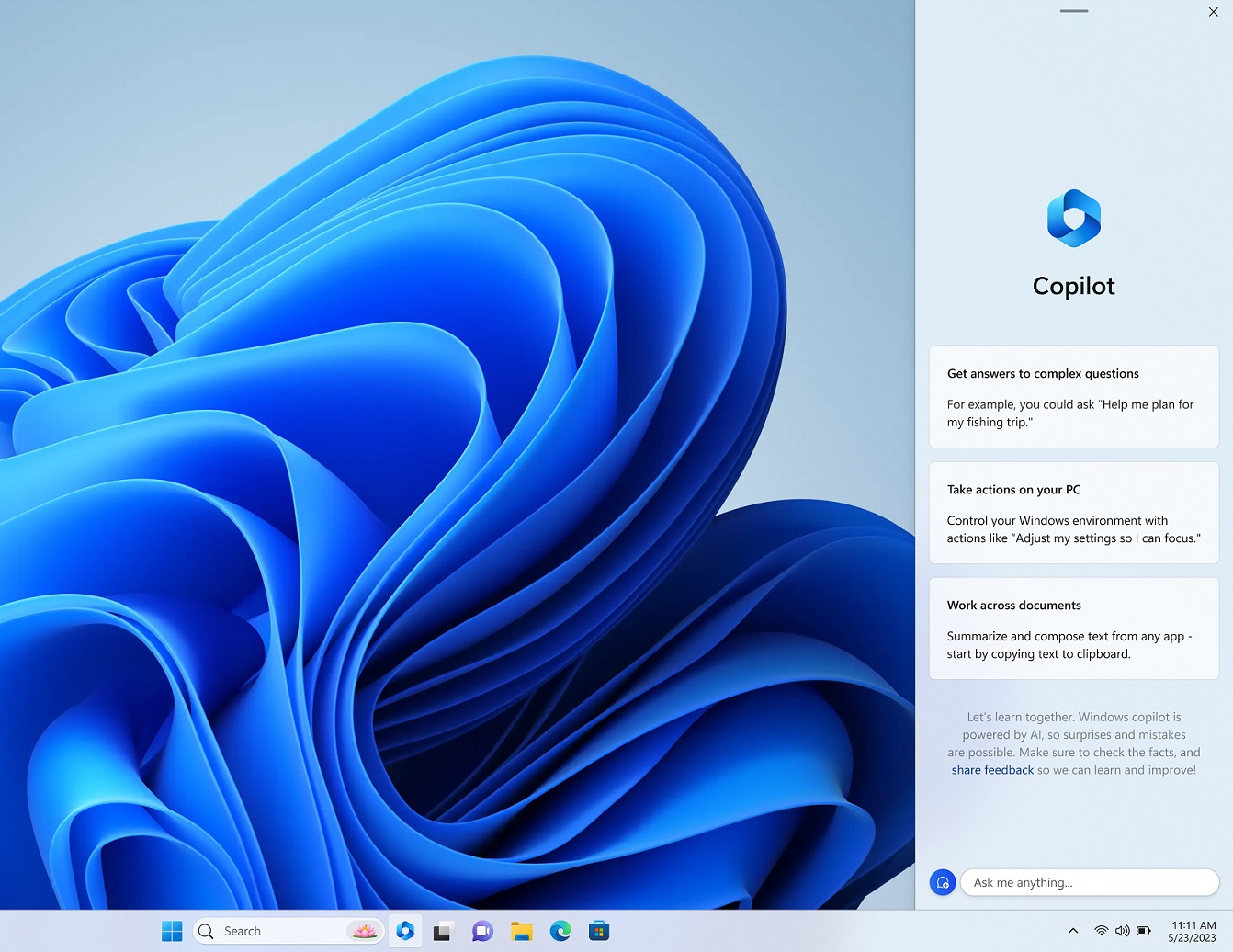 Windows Copilot can automatically detect the app opened on the left side of the screen and suggest actions, such as personalizing the settings and more. For example, users can ask it to plan a fishing trip, adjust settings to enhance focus, or summarize and compose text from any app.
Copilot brings ChatGPT plugins to Windows 11
ChatGPT and Bing Chat power Windows Copilot, which supports first and third-party plugins.
As you probably know, generative AI like ChatGPT has traditionally relied on internal scrapped data to pull knowledge. With plugins, ChatGPT or Bing can connect to third-party platforms directly. The plugin lets third-party services like Instacart or Kayak connect to ChatGPT.
The same functionality is also available in Windows Copilot, which means Windows 11 can now use AI to provide information directly from third-party platforms.
For example, you can ask Windows Copilot to share your Spotify playlist and discuss it with the AI or simply ask it to play songs on Spotify.
There'll be a plugin store which acts as the AI version of an app store, like Play Store or App Store but for AI plugins.
Here's a list of all features of Windows Copilot:
AI-powered assistant: Copilot leverages the power of Bing's AI and ChatGPT-4 to answer complex queries and assist in day-to-day activities.
Works across all apps, documents, desktops and more: The feature can work across different apps, summarizing and composing text as required.
Seamless integration: Integrated with Bing Chat and first and third-party plugins, Windows Copilot acts as a centralized AI assistant and brings everything to one place, accessed via a toggle on the taskbar.
Pinned to the taskbar: Copilot is an option that will be pinned to the taskbar, making Copilot sidebar accessible across all apps.
Content, content and content! Copilot is in sync with Microsoft 365 Copilot, and it can help you write documents, rewrite documents, summarise, or explain anything on the screen.
Plugin Support: With support for plugins, Windows Copilot opens up new opportunities for developers to innovate and reach customers. Plugins from services like Instacart, Kayak, and Expedia bring them to Windows 11.
Arriving in June in preview
Microsoft officials confirmed that the AI-powered Windows 11 Copilot update would begin in preview in June.
You'll need to sign up for Windows Insider Program to access the early preview of the feature.
The post Microsoft reveals AI-powered "Windows Copilot" for Windows 11 with Bing, ChatGPT appeared first on Windows Latest