Call Out or Bring Your PC to Us
South Wales' leading provider of on-site PC repairs and IT support for home and business. Peer Networks UK delivers prompt, no fuss, same day computer repair services to customers in the South Wales and West area, six days a week.
Our computer support services include hardware and software repairs, system security solutions, wireless and wired networking services, virus and spyware prevention and removal, data backup and recovery solutions and just about any other type of computer or laptop support our customers require at their homes or offices.
Peer Networks UK has highly experienced support technicians, with a broad range of experience in all things technical. This means that we can provide expert assistance for issues as varied as: Virus Removal, Internet Security and Firewalls. We can even help you with buying or upgrading a computer.
Contact Peer Networks UK via the 'Contact Us' page to book a call out, or to bring your computer to us.
Instant Remote Support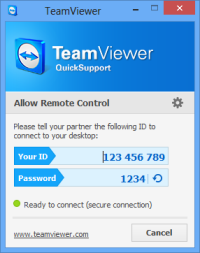 It's not always easy to explain technical issues over the phone. With screen-sharing, our technician can see your computer screen and share control of your mouse and keyboard, allowing us to fix problems remotely, and show you what to do if something goes wrong in the future.
Download Instant Support
Install Support Shortcuts
The first link will download and run Peer Networks UK support application on your PC. Select run, and when downloaded, the program will load and will look like the image on the left.
The second link will download the installer to permanently install Peer Networks UK support on your PC. When remote support is required, shortcuts to the program will always be available on your desktop and start menu.